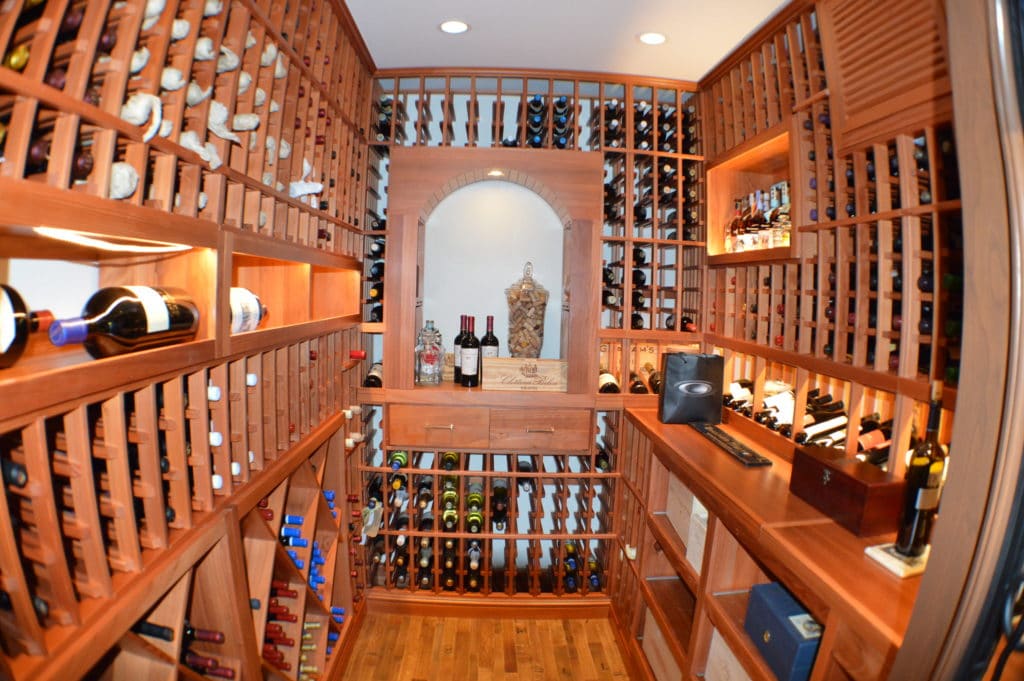 Ideally, a wine room must not only be functional and durable, but also aesthetically appealing. Coastal Custom Wine Cellars, one of the leading construction companies in California, recently designed a unique and beautiful storage structure for a client in San Francisco. The contractors made sure that the cellar was built to effectively provide the tightly sealed space that wines need. Moreover, the details of the storage room's design were meticulously attended to, so that the client's style preferences could be met. 

Home Wine Room Construction Project by Coastal Custom Wine Cellars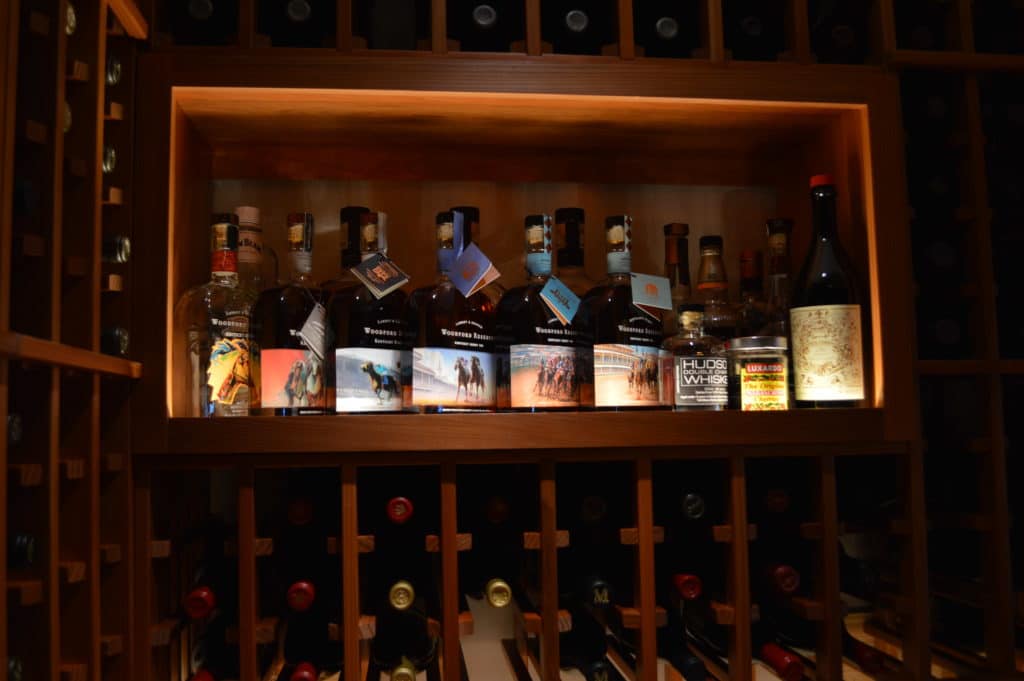 Recently, Coastal successfully completed a wine cellar construction project for a client in San Francisco, California. The client wanted the storage expert to build him a wine room that could accommodate bottles of various sizes, as well as beverages other than wine. He also had specific design preferences that he wanted the builder to include in the construction.
Unique Racks and Distinctly Elegant Wine Displays
The client in this San Francisco project had a very unique wine cellar design concept in mind. Instead of keeping wines exclusively, he wanted his storage room to have an area where he could display his Bourbon collection. To meet this request, the construction specialists added open bins on the wine cellar's right side. These bins are where the client keeps liquors.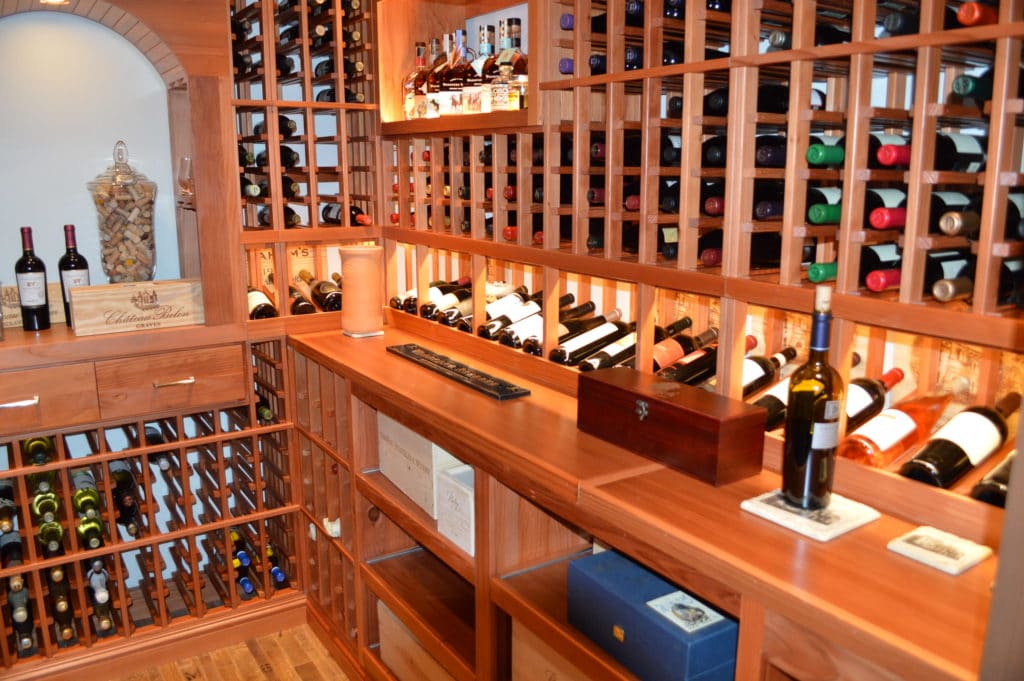 The contractors built a display row on the left side of the residential wine room, and it was designed to accommodate large format bottles. The team of builders also created label-forward display spaces, so that wine bottles can be safely cradled in a shelf. These uniquely designed shelves can fit a variety of large sized wines, anywhere from 1.5-liter to 12-liter bottles. Coastal's construction team also included shelves on both the left and the right side of the cellar that were specifically made for magnum-sized bottles. The style of the racking and shelving in this San Francisco cellar is ideal for wine enthusiasts who enjoy collecting an assortment of wine bottles.
Learn about the different kinds of wine racks and shelves today! Click here!
This one-of-a-kind wine cellar has a convenient tabletop area with an elegant arch above it. The arch display is unique because instead of a visible stemware rack, it has inset spaces on both its left and right sides. Wine glasses can be hung upside down, by their bases, in each side. Each of the inset spaces can accommodate up to four glasses. Below the tabletop is a set of drawers where the client keeps wine tasting rudiments, such as napkins and corkscrews.
One of the features that makes the San Francisco home wine cellar stand out is its gorgeous lighting system. The entire storage room is well lit with rich and vibrant colors. It also has a concealed lighting setup, which make the wine displays look more stylish and sophisticated.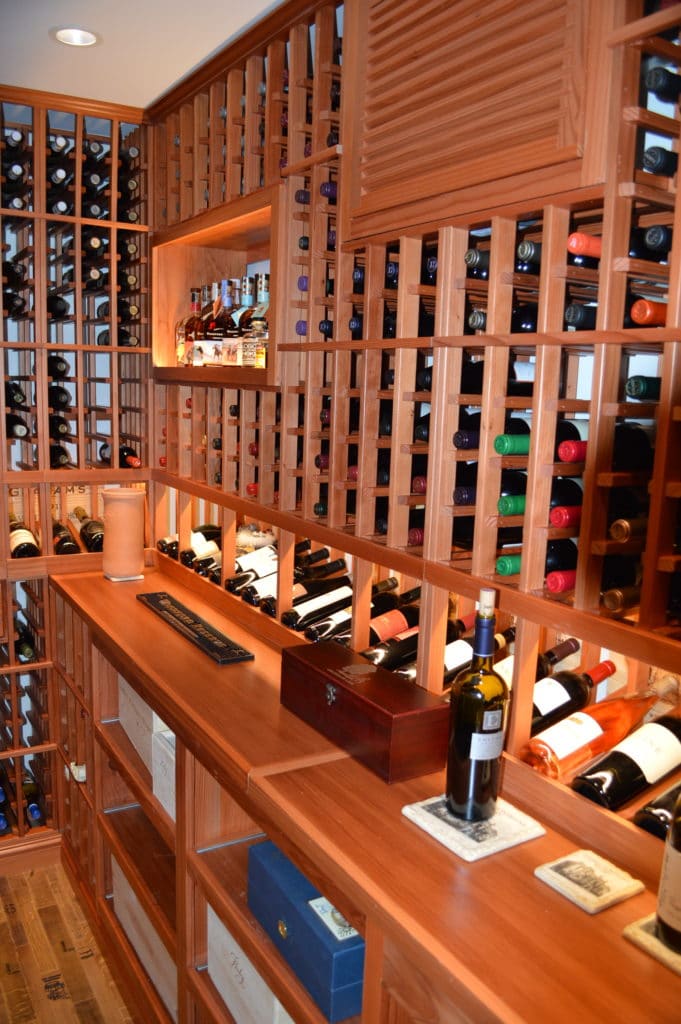 The team of expert builders from Coastal had a very healthy working relationship with the client, and this is why the project was a success. The client's house was near Coastal's main office. The proximity allowed the storage specialists to visit the area more conveniently. Before the project commenced, the contractors visited the site to take accurate measurements of the room, discuss with the client his various options, present an assortment of wooden finish samples, etc. The team, together with the client, planned the construction thoroughly and kept open their communication lines. As a result, every detail of the client's needs and preferences were met. The client was very satisfied with the services that he received.
Make your custom wine cellar stand out by having a storage specialist create a unique design for you! Consult a wine storage expert today by clicking here!
Gorgeous Wine Cellar Door with a Stellar Radius Top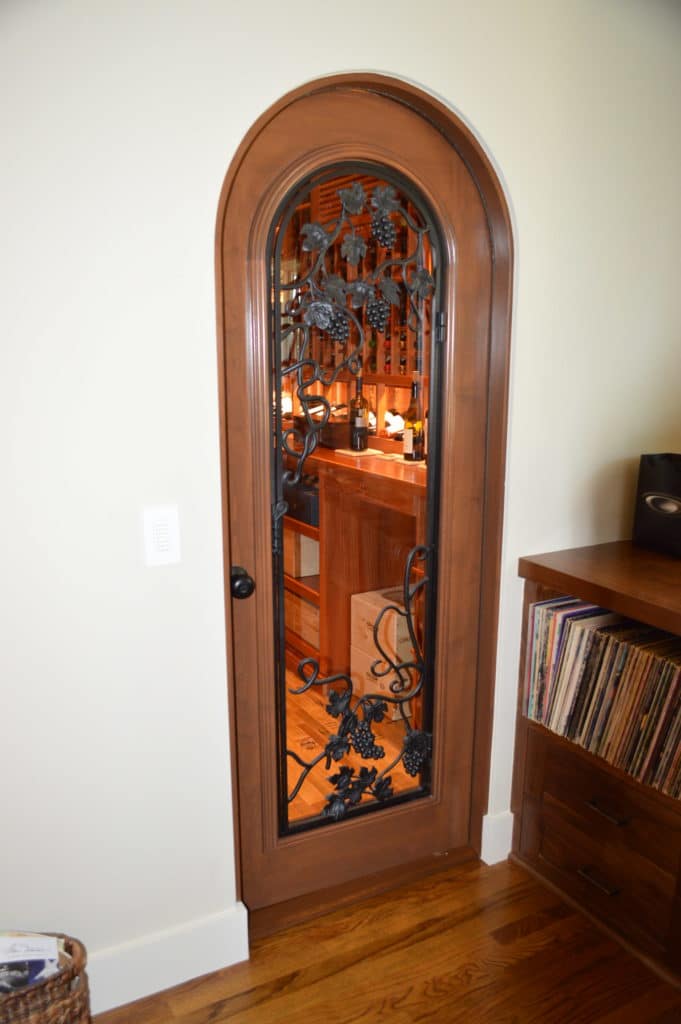 A well-built wine cellar door is a vital aspect of an ideal custom storage room. It is mainly responsible for keeping the structure tightly sealed. Besides its functionality, a door is also essential because it contributes to a cellar's aesthetic value. A beautifully designed door can make your residential wine cellar look more attractive. On the San Francisco wine storage construction project, a cellar door was custom-designed to meet the client's preferences and match the room's overall style.
A uniquely built wrought iron door was installed in this project. It stood approximately eighty inches in height with a stunning arch or radius top. The door had ornate details of grapes and vines on it. The design is called "The Huntington," because it was originally drawn by one of Coastal's previous clients in Huntington Beach. Many other clients loved the design and had requested it for their home wine cellars as well.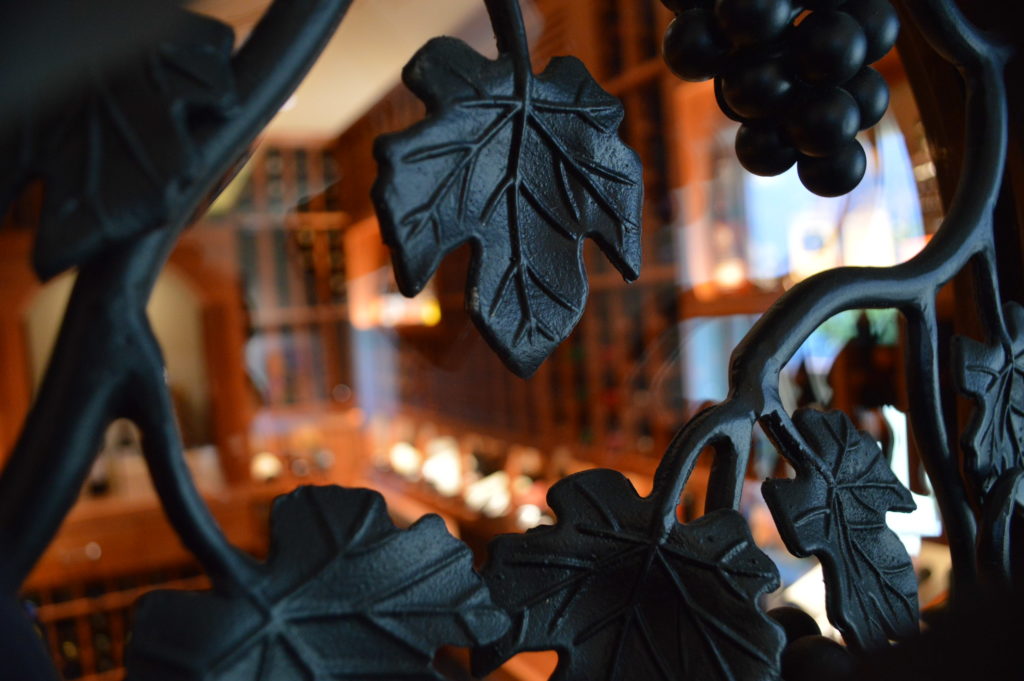 Coastal Custom Wine Cellars is well-known for their beautiful custom-designed cellar doors. They offer a wide variety of sizes, shapes, and styles of wine room doors. Their installation services include everything, including the weather stripping, casement moldings, dual pane glass, jamb, and self-sealing door bottom.
Find out the latest trends in wine room door designs by consulting a storage expert! Call Coastal Custom Wine Cellars today! Click here!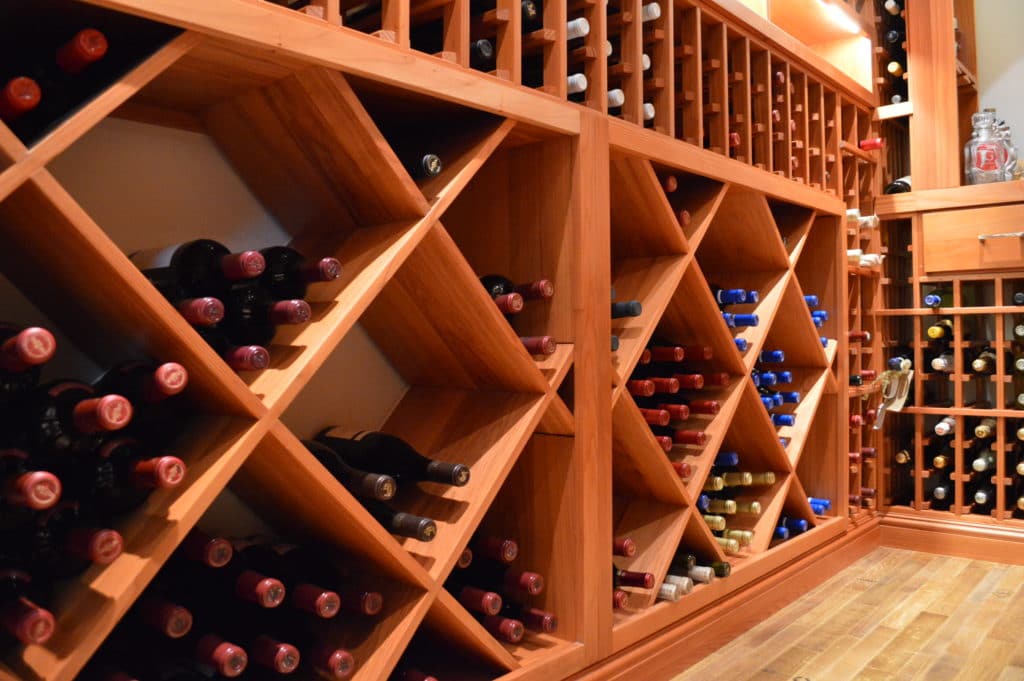 Premier Wine Storage Specialist in California – Coastal Custom Wine Cellars
Custom wine cellars, whether residential or commercial, should only be constructed by an expert builder. Coastal Custom Wine Cellars is one of the most trusted storage contractors in California. They have over a decade of experience in building dependable and durable wine rooms. Coastal takes pride in unfailingly making all of their clients happy by providing high quality services.
Want more information about Coastal Custom Wine Cellars? Learn about their products and services today! Call them at +1 (888) 735-8889!